This time in Athens 2004, Greece's 441-member Olympic team features several medal hopefuls in track and field and weightlifting. Kenteris followed his Sydney gold with 200m titles at the 2001 World and 2002 European Championships. Greece's other sprinting hero, Katerina Thanou, won silver in the 100m in Sydney, bronze at the 2001 World Championships and gold at the 2002 European Championships. Periklis Iakovakis, a bronze medalist in the 400m hurdles at last year's World Championships, has a chance to become the first Greek to win an Olympic hurdles medal at Athens 2004. Greece's best hope for a track and field triumph in Athens 2004 may be Mirela Manjani, the 2000 silver medalist and two-time world champion in women's javelin. Anastasia Kelesidou and Ekaterini Voggoli are both medal contenders in women's discus in the Athens 2004 olympics.
The summer olympics are here and the opening ceremony will be kicking off this Friday. It's hard to believe it's already here but it is. I'll be reviewing the games, the medals, and much more. The summer olympics are being held in Athens Greece this year where there will plenty to do and see. We already have the first set of games underway with Women's soccer where the United states team won and the German team took a victory over China.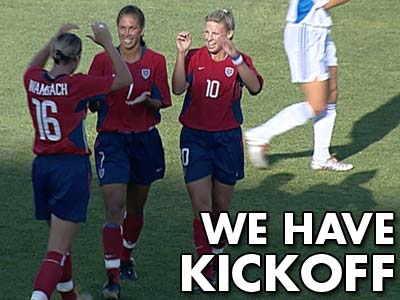 This time around the summer olympics will be the games of XXVIII olympiad where the olympic flame and torch will be passed by 600 people in a two day trip around the city of Athens. It should be a memorable moment to experience.